The Mutual Screw and Supply offers a huge range of steel zinc plated dowel screws in a variety of sizes and gauges. We, at Mutual Screw, offer you these fasteners at all desired lengths and thread pitches.
So what is a dowel screw?
It is basically a rod-shaped metal fastener, enabled with two tapered ends and spiral threads. It is usually pointed on both ends and is used to fasten two soft objects such as wood together.
This kind of screw is generally used with furniture and other woodcraft pieces, so as to create a joint with visible connectors. One half of the length of metal fastener is screwed into the surface of the joint, so that the two objects can be easily rotated together or apart. The connecting surfaces are then aligned at the meeting point and spun in the desired place to drive the other half of the screw all the way in.
The rigid parallel grooves present on the exterior grip of this Tacoma screw, bears the material firmly, while the fastener is driven into.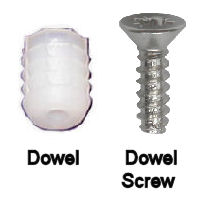 Usually the dowel screws are made up of steel to endure increased strength and these are available in a wide variety of thread pitches and diameters, so as to meet the requirements of projects in various industries.
Most of these fasteners are zinc plated and also galvanized. This kind of coating protects these metal pieces from corrosion when exposed to moisture.
How to drive a dowel screw?
The installation procedure of dowel screws involves a special kind of screwdriver.
Have you ever thought how to drive a screw, which features only threads and no head? Well, this kind of rivet cannot be fastened or unscrewed with a normal screw driver. You'll require a dowel screw driver, through which you can install the screw by using a cordless or an electric drill. All you need is to put this driver into the chuck, thread the fastener into it and then drive it in. The drill should be then reversed to remove the driver.
These fastening devices are usually driven into pre-drilled holes, which are slightly narrower and shorter than the screws.
You may flatten the threads by holding the screws with a pair of pliers of vise grips. This may damage the fastener, thereby making it useless. Hence, you should always go for specialized kind of dowel screw driver heads, which are designed to insert the fastener into a surface without spoiling the threads.
What if you don't have a suitable driver?
Once you install the steel zinc plated dowel screw in both joint surfaces, unscrewing them becomes quite difficult, unless you have a suitable driver to loosen them. People usually tend to make a common mistake by applying brute force, in order to pull out the connection. This eventually causes damage to one or both of the connected pieces.
In some special cases, when you don't have a suitable tool, these metal pieces can be carefully sawed in half to cut apart the connection without making any damage. The protruding part of each severed section can be now gripped with pliers and twisted out completely.
When multiple dowel screws are employed on the same joint, they then share the weight load and increase the strength of the juncture.
These rivets are sometimes used with self-assembly furniture (also known as knock-down furniture or flat pack furniture and is mainly a form of furniture, which is purchased in multiple pieces and requires assembly. This type of furniture is sold in a box, containing instructions for the user to follow in order to assemble it after purchase).
The instruction manual for assembly may also demand for wood glue, which is applied on the pre-drilled hole before driving in these screws. Once the glue gets dried, the fasteners are then installed into the adjacent surface.
These screws are specially designed, so that they can be easily twisted without use of any tools, by hand. However, always remember over tightening of these screws into a particle board or in any inexpensive furniture may create cracks, thereby affecting the stability of the piece.
Specifications
Material: AISI 1008 & 1010 steel
Core Hardness: 3/16 through 3/8 in. diameter, all lengths: Rockwell B70 – B100
Tensile Strength: 3/16 through 3/8 in. diameter, all lengths: 60,000 psi. minimum
Plating: Zinc plating
Sizes: #8 X 1 1/4, #3/16 X 1, #3/16 X 1 1/4, #3/16 X 1 1/2, #3/16 X 1 3/4, #3/16 X 2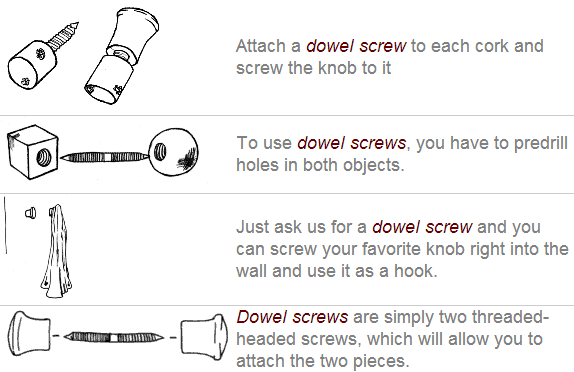 You can visit here to know more about dowel screws.