In terms of machining definition, a cutting tool is a kind of appliance, which is used to remove material from the workplace by means of clipping deformation.
These tools have been in usage in metal machine industry since the late 19th century and are mostly used for metalworking such as broaches, band-saws and drills. What started off initially as appliances, which were tedious and laborious to use, now are more simplified and advanced to get match with modern day instruments. These are readily available in every tool box sold online or at any machinery shop.
The market is today flooded with various types of cutting tools, each serving distinct purposes and applications. All the available types of such devices in the market can be classified as multi-point and single-point cutting tools.
While single point cutting devices are used as scissors for shaping, turning and other similar applications, the multi-point equipment are used as grinding, drilling and milling devices.
Other kinds of machining tools include reamers and fly cutters. While some of these pieces require some kind of manual assistance to perform their job, other devices are already designed to be completely computer generated.
In order to operate properly, these appliances should be able to resist heat, generated during the cutting process and should be stronger than the material, which it's supposed to cut.
In addition to, the tools should be enabled with distinct geometry, so as to provide precise angles to stop the entire device from being in contact with the material supposed to be cut. Different appliances cater to different cutting requirements and so they possess distinct shapes to match with the job.
The milling appliances are usually small and are bench or floor mounted but sometimes require a huge space within a room. These machining pieces are also used for contouring, drilling, and desinking along with desired surface planing.
Manufacturers are always required to consider several factors in order to ensure that the working life of the tool is optimized.
Different types of cutting tools
Leather Cutting Tools
These are one of the most frequently used types in the industry today. As the name suggests, these are used for manufacturing of the leather products. Since leather is quite expensive, so the tools to run over this material should be efficient enough, so that no damage is done to the surface.
Such types of devices are specially designed to enable perfect clean cuts. Swivel, rotary cutters, utility knives and shears are some of the examples, falling into this category. While swivel knives are ideal for carving out the initial outline of a leather piece, the utility knives feature disposable blades so as to perform deep cuts over the piece.
With right kind of cutting device, this expensive material can be tailored at much ease and precision. They are even efficient in making decorative cuts over the parchment, which are also referred as dress cuts. For cutting soft leather, rotary cutters are used, while leather shears are used for cutting medium weight and light-weight leather.
Metal Cutting Tools
As the name indicates, these devices are supposed to be quite strong to cut the metals efficiently. These tools require frequent sharpening and castling, as they face maximum wear and tear during the sharpening process.
In industrial applications, the metal machining devices such as reamers and drills are used to create holes with accurate sizes. In domestic applications, these devices are usually smaller, as they are not meant for heavy-duty processes. The examples for this application include hacksaws and snips.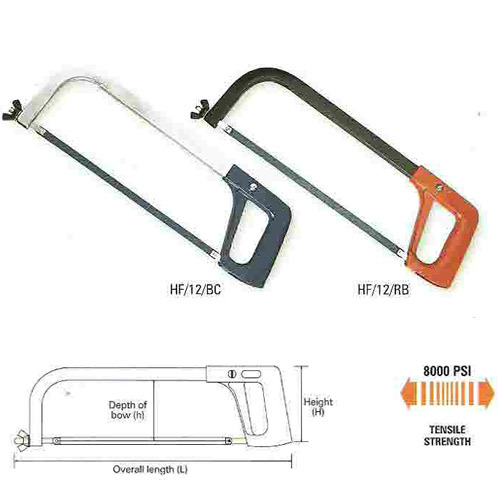 The size of the snips ranges 5 and 14″. The snips do not remove the metal, instead create small fractures across the edge of the cut. Hacksaws are more advanced, as they are able to cut the metal pieces, which snips fail to do and their examples include metal pipes and bars.
Glass Cutters
These are generally glass cutting tools, which are designed to cut through glass effectively, without making any damage. Their specially designed edges easily snap a piece of glass into any desired shape and style, without any damage. Glass, by nature is quite brittle, so a wrong device can easily break off the glass.
The edge of the appliance creates a snap, thereby weakening the targeted area of the glass. This method makes the cutting easier, thereby enabling more control over the desired shape.
Various types of glass cutters are available in the market to match with every individual requirement, be it domestic or commercial purposes.
Band-saws
These types of sharpening devices are mostly used for woodworking and can be easily found in metal shops. This machining appliance has got its name from the circular metal blade, which cuts in rotation across two or three wheels.
These saws are also used in a horizontal or vertical position. The blade is made stationary and the metal to be cut is pushed towards the blade. The band-saws typically create